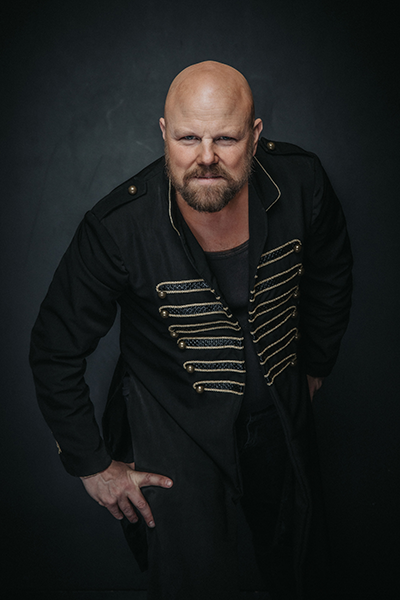 Dear brother and sisters in Christ,
Thank you for letting me share this sermon with you all.
My name is Christian Liljegren and l live with family father wife and four children in Eskilstuna, Sweden and this is my testimony about my calling to be a vocalist for the Kingdom of GOD
I am song and music evangelist and hard rock and heavy metal is my passion and also my tool to reach people with the gospel, hope and salvation for mankind through Jesus Christ since 1989.
The bands I have been lead vocalist and founder of are many such as Venture, Trinity, Borderline, Modest Attraction, Narnia, Wisdom Call, Audiovision, Flagship, Divinefire, Golden Resurrection, Flames of Fire, The Waymaker and solo albums, but again the band names are not important all that matters in the end is that Jesus Christ the salvation for mankind is shown through these bands.
That is my calling.
I am sure GOD is giving us gifts, passion for things for a reason and I am deeply thankful to my God for giving me the gift to sing and create and listen to music and all the people I have met through my music ministry. I am very excited to go on tour this year with Narnia and share the heavenly hope in this time as the turbulence have been rising higher and higher, and thank you for inviting me to share some light to follow Christ these days.
I have been going through ups and downs as we all will face in life. The decision I made to become a Christian is the best ever but it was very tough in school for me as I stood up for Christ already in young age and it was not easy to be an outsider, but the fire and my faith that I had inside my heart was real and it is still real and the most fantastic adventure you can get if you let Jesus be involved in your life and let the Holy Spirit guide you step by step.
Now when I reflect on my life in 2023 I am so happy I still have the fire inside and I pray that the Holy Spirit guide me and guide you when our world in so many ways don't follow GOD.
When I read the scripture we saw this movement very early in mankind's history but with Jesus Christ all is restored and fulfilled and our God our creator have so much fantastic for you and me if we believe in our hearts and receive the Spirit of life through Jesus resurrection.
I pray and hope for a revival and God start with me. I always wanted to be more bible rooted as I know there is so much power to get through reading the scripture and this year I really want to dig deeper into God's word. Today when I read in the bible it is remarkable how the The Holy Spirit shine light over the scripture as it is written in the first 5 verses in John 1:1-5:
1 In the beginning was the Word, and the Word was with God, and the Word was God. 2 The same was in the beginning with God. 3 All things were made by him; and without him was not any thing made that was made. 4 In him was life; and the life was the light of men. 5 And the light shineth in darkness; and the darkness comprehended it not.
Right now I am in the book of John chapter 10 and it is amazing when you let the Holy Spirit guide you through your reading of the scripture. What I have faced in my Christian life the last years is that the Lord is providing us what we need in all aspects
An important question to ask – How do we feed our inner fire for the Lord for the Lord so we keep the fire burning every day and where do we get the power to fulfill the marathon race called life?
A friend and pastor told me 20 years ago and I kept this in my heart and it is so important to stop and reflect on this. I am sure it is how we use our time, our gifts and our resources that matters in our lives and what we take in. It is out of that we see the fruits as I pray every day I want to be more like Jesus Christ the most amazing person walking on earth as He is the Son of God.
More than ever when I focus how do I spent my time and what do I take in. You will see a change. The Lord wants the best for you and me both alone in your chamber in prayers and reading the bible, the Holy book that shapes you to see what happen these days of turbulence.
It is the same with your relationships with your wife, husband, children and friends you have to care about your relationships and the same goes for our relationship with God.
Jesus restored everything and made it possible and all is forgive for mankind through the power of the cross and all we have to do is believe and let Holy Spirit guide us, but we all have been given a free will. God loves us so much. I am so thankful for his mercy and I want to know him more as life comes from HIM.
Thank you God for showing me your way and love is the most amazing thing and conquer darkness and death and the proof is the power of the holy cross and Jesus resurrection from the death and all because of love for us. If we look at each other in love the way Jesus loves us we will see another world and that is what I want to share through my ministry as singer for God's kingdom.
To be together with other Christians and in my band strengthen me and shape and I put the armor on as the enemy takes every chance to blur our focus on the Lord.
Be rooted in the scripture and all promises there and have a living praying life alone and together with Christian brothers and sisters, that is the way and the enemy is shaking when he hear us uplifting JESUS CHRIST the King of kings and Lord of lords.
I am very honest in this that all that matters is that Jesus will be shown through me and my bands and the way we live. I want to see more of Jesus and I am longing to see more people around me healed, saved and uplifted in this time and I will do all I can to be this open channel for God's kingdom.
Here I give some Bible scriptures that help me through the years me to keep the fire inside and also inspired for lyrics in songs I have dome together with my great brother in Christ in different bands.
Romans 12 11-12
11 Not slothful in business; fervent in spirit; serving the Lord; 12 Rejoicing in hope; patient in tribulation; continuing instant in prayer;
Acts 17 26-27
26 And hath made of one blood all nations of men for to dwell on all the face of the earth, and hath determined the times before appointed, and the bounds of their habitation;
27 That they should seek the Lord, if haply they might feel after him, and find him, though he be not far from every one of us:
John 4:14
But whosoever drinketh of the water that I shall give him shall never thirst; but the water that I shall give him shall be in him a well of water springing up into everlasting life.
These places from the Bible has inspired me for lyrics like Feed your fire – Modest Attraction, Keep the fire burning – Audiovision, Living Water – Narnia.
I fully understand it is not easy to live and follow Christ and I have been falling many times but I know in my heart I am not alone and he comfort me and I worry a lot sometimes but when I read the from Matthew chapter 6 I got strength and still today the Lord has provided me what I really need in right time. Read and follow in the bible Matthew 6 33-34:
33 But seek ye first the kingdom of God, and his righteousness; and all these things shall be added unto you. 34 Take therefore no thought for the morrow: for the morrow shall take thought for the things of itself. Sufficient unto the day is the evil thereof.
We all struggle but keep the faith and never surrender. What Jesus Christ did on the cross still amazes me to this day and I am thankful to have the opportunity to share this sermon with you, maybe you are here reading this and you are not a Christian.
I challenge you today Invite Him into your life the best decision ever and it is for eternity in unity with our creator. He wants the best for you and loves you. I will end this sermon to pray with me.
Dear Jesus, you see my life, you see my needs, you see my failures, you see my sins
You are the Saviour and took all our sins on the cross, the past, the present and the future
All is forgiven because of you and I am free from sin
Lord I invite you now into my life, I want to follow you
Thank you Jesus Christ for saving me today and renew my spirit today, lead me through my life
Thank you for loving me and giving me eternal life
In the name of Father, Son and the Holy Spirit
Amen
Brothers and sisters in Christ again deeply thankful for sharing this sermon with you
Stay close to Jesus that is what matters in the end, be blessed and protected in this time
Long Live The King, Long Live Jesus Christ
Christian Liljegren
March 29, 2023