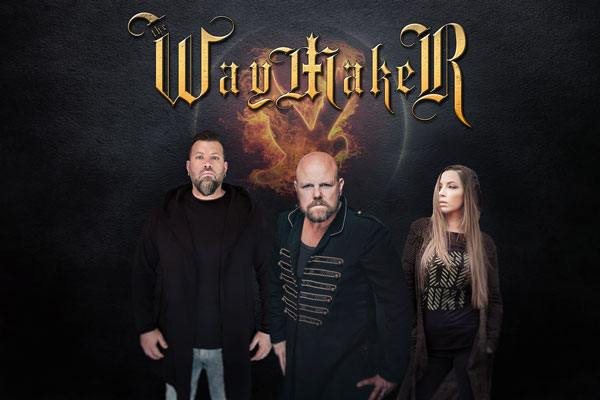 Biography
The Waymaker was formed in summer of 2019 by vocalist Christian Liljegren (Narnia) & guitarist Jani Stefanovic (Solution .45 & Miseration). Jani & Christian were both involved in Divinefire, who did five studio albums between 2005-2011 and reached a huge popularity especially in Japan & South America.
The Waymaker line-up was completed when the talented and soulful Katja Stefanovic joined the band. Katja is a very talented vocalist and composer and she has done several solo albums in Finnish and English.
The band delivers bombastic Scandinavian melodic metal with virtuous guitar playing and powerful male & female vocals from all members, as Christian, Katja & Jani share lead vocal duties in The Waymaker.
All members have a long musical background and experiences from touring and recording worldwide, but one common goal have been to take the listener on a musical journey, where the music and the message is The Waymaker in this time.
We live in a chaotic world where it is hard to find peace and your place. The Waymaker wants to deliver music with a heavenly hope and guidance to as many as possible.
If you listen to the music you hear influences from Yngwie Malmsteen's Rising Force, Stratovarius, Masterplan & Kamelot.
It is always hard to break new ground but The Waymaker delivers Scandinavian melodic metal with a new twist! It is very powerful but still a dynamic production handled by Jani Stefanovic and Multi Grammy, Gold & Platinum Award winning Thomas Plec Johansson (Gathering of Kings, Soilwork, Nocturnal Rites, Divinefire and many more. 
On the debut album The Waymaker have recorded their version of Stryper's classic metal song "Soldiers under command" from 1985 where you hear guitarwork from Jani Stefanovic and Narnia's axeman CJ Grimmark.
On the drums we find Alfred Fridhagen, a powerhouse metal drummer who has played in ReinXeed and Golden Resurrection.
The Waymaker debutalbum is a killer with no filler!
The band is very excited to meet the media and fans and of course to perform live worldwide. The Waymaker is here to stay and show the way of new exciting Scandinavian melodic metal for the people.
The album was released in September 2020 through:
Sound Pollution in Europe, North America & Australia
King Records in Asia
Voice Music in Brazil
Icarus Music in Argentina
Line-up
Jani Stefanovic: Guitars, bass & vocals
Christian Liljegren: Lead & backgound vocals
Katja Stefanovic: Lead & backgound vocals
Recommended if you like
Yngwie Malmsteen's Rising Force, Stratovarius, Masterplan, Kamelot, Divinefire, Narnia.